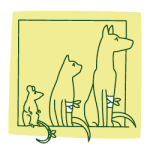 Elston Vets
Elston Veterinary Clinic has an opening for a receptionist, to join our amazing and expanding team.
Previous receptionist experience is helpful, particularly in a veterinary surgery. Our fabulous team is hugely motivated to provide exceptional customer service to our clients and patients. We passionately believe in the importance of working with each other supportively, and having a positive, accountable, highly functional team.
You will have the opportunity to contribute to the development of the practice via regular team meetings, and with our Continuous Improvement System, which is a vital part of the business.
This role requires excellent communication and relationship skills, the ability to work under pressure, a basic understanding of sales transactions, and you must be computer literate with superb attention to detail.
You will be greeting clients, answering the phone, booking appointments, working with your team to maintain a clean and welcoming workspace, and supporting the vets and nurses. Cuddling puppies and kittens can help, and might be needed at any time.
This is a part-time position, approximately 20-25 hours per week, which includes some Saturdays, and requires some flexibility. You must be at a realistically commutable distance from our lovely village of Shrewton.
How to apply
If you think you would enjoy this work, and have enthusiasm with high standards to bring to our team, we would love to hear from you. Please apply online and attach your CV.