Microchips
Keep your pet safe if they find themselves off the beaten track
As of 2016 it will become law in the UK that dogs have microchips and also collar tags.
Pet microchips are a quick, easy and painless one-off injection which places a tiny microchip under the skin of the scruff of the neck. Each microchip carries a unique number which can be read by a portable scanner and will allow the authorities to contact you should your pet become lost. They are small, simple and the best way of ensuring that your pet is returned to you.
Why should I have my pet microchipped?
The microchip is a permanent means of identifying your pet. Collars and tags, however useful, can easily be lost.
Should your pet become lost, the microchip system will help to return him/her to you with the minimum of delay, otherwise there is a possibility that they may be re-homed or even destroyed. This is particularly important if your pet is seriously injured.
Pets travelling abroad are required to be microchipped as part of the Pet Travel Scheme.
How can I be traced if my pet is found?
Your information is kept for life on our practice computer system and a National Database and the fee for this is included in the cost of the implantation. If your pet is found and its chip number identified, it is a relatively easy matter to reunite you with your pet. The chips comply with the International Standard (ISO) and so can be recognised by scanners abroad.
What if my personal details change?
Whilst the microchip with its unique number will remain with your pet for life, it is possible to update your personal details on the National Database as and when required.
Can microchips have side effects?
A European reporting system which monitors reactions to microchip implantation has failed to identify any significant problems in the last 6 years.
Contact Us
Email ask@elstonvets.co.uk
Tel 01980 621999
Fax 0845 074 5752
24 hr Emergency Service
Telephone 01980 621999
Address
Elston Veterinary Clinic,
Elston Lane,
Shrewton,
Wiltshire,
SP3 4HL
Reception Open
Monday: 8.30am - 7.00pm
Tuesday: 8.30am - 7.00pm
Wednesday: 8.30am - 7.00pm
Thursday: 8.30am - 6.30pm
Friday: 8.30am - 6.30pm
Saturday: 9.00am - 12.30pm
Appointment Times
Mon - Wed: 9 - 12 noon & 2 - 7 pm
Thurs - Fri: 9 - 12 noon & 2 - 6 pm
Saturday: 9.30am - 12 noon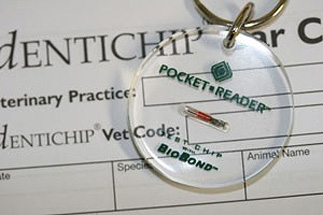 Contact us to discuss microchips and your pet
Book a pet microchipping appointment for your pet today by calling 01980 621999 or by using the link below to send us a message.