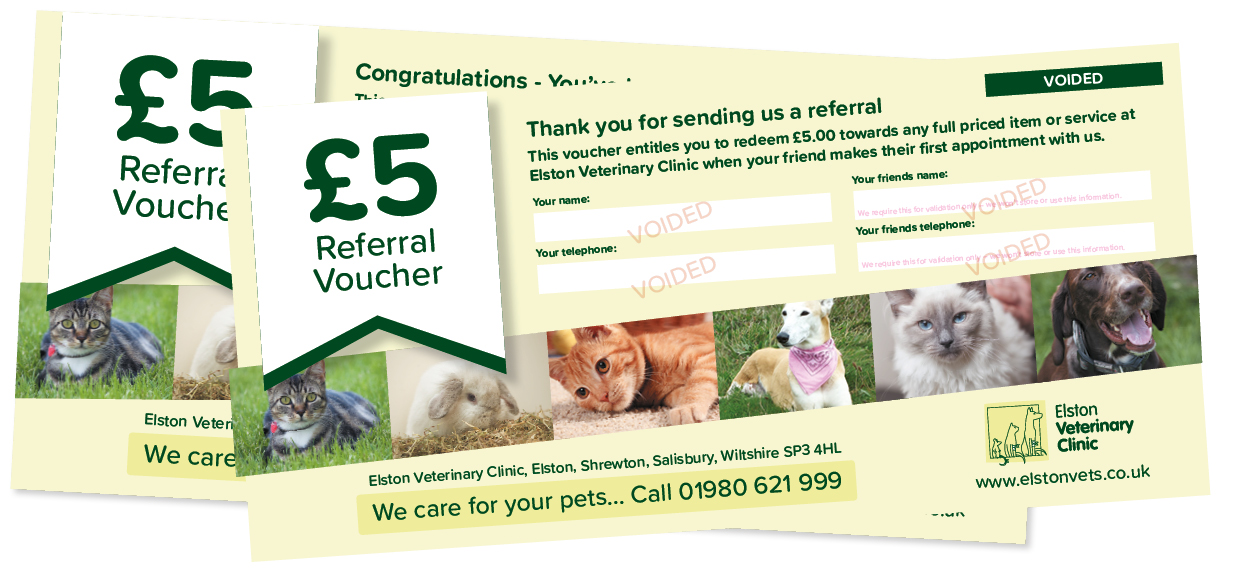 Elston Vets refer-a-friend scheme:
We have a great NEW offer:
Refer friends and get a £5 voucher (and a £5 voucher for your friend too!)
To celebrate and support your valued custom we want to thank you – and your friends – by giving you something in return…
It couldn't be easier;
Add your details in the form below;
We'll send you an email with your £5 voucher;
Also look out for a second email to forward to your friend – this includes their £5 voucher and a little bit of information about Elston Vets.
It's really simple to take part
You can both use your £5 vouchers against any full priced item or service when your friend/'s make and attend their first appointment.
There is no limit to how many friends you refer to us!
Use the form below to get your voucher immediately and please remember to forward the second email you receive to all your friends.
or, if you prefer pop into the surgery to pick up a form.
Refer friends to receive your £5 voucher:
*Terms and conditions apply
*Terms and conditions
The refer friends Vouchers have no value until the referred friend has booked an appointment and attended that appointment
There is no limit to the number of friends you can refer.
This is an ongoing offer, but may be withdrawn at any point
If the offer is withdrawn we will honour any outstanding referrals for a 2 week period after the offer is withdrawn