Pets are in the senior age group much sooner than humans, and with higher than ever standards of nutrition and healthcare, they are staying in this age group for a long time too.
Cats are classed as senior once they reach 10 years old. The age dogs reach their senior years is determined by the breed size and life expectancy, but they generally hit their silver years between 6 and 13 years old.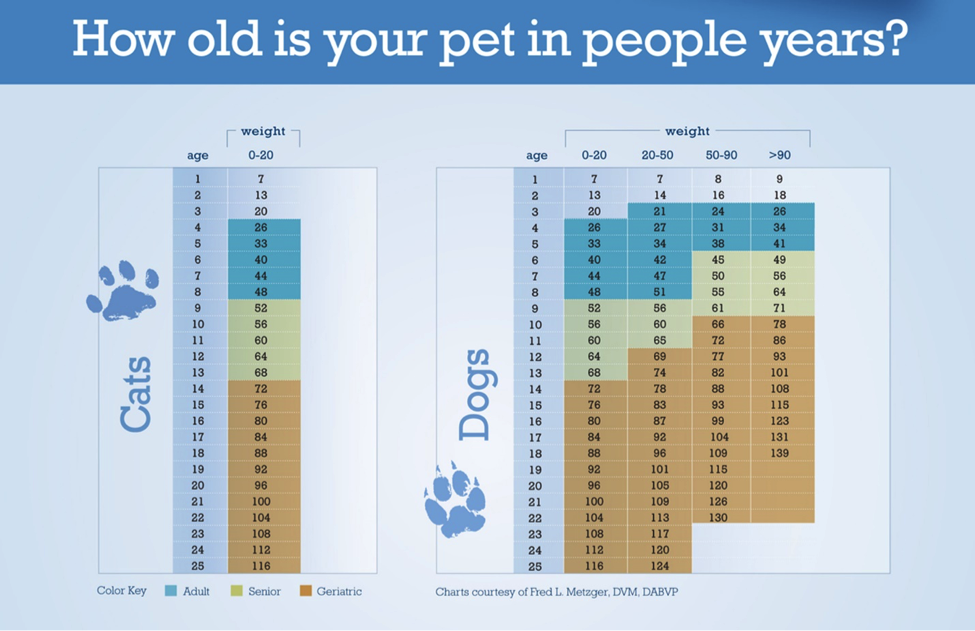 Seniors have specific needs and require more TLC during this period of their life. To help keep them happy and healthy and part of our families for as long as possible, we've put together a list of healthcare essentials:
1. Check their diet suits their life stage and changing nutritional requirements
Making sure your pet has all the nourishment they need to stay active and healthy is a simple way to boost their chances of staying well for longer.
If your cat or dog slows down physically, they will slow down metabolically, and this will make them more prone to weight gain. Carrying additional weight can cause more problems for the elderly than in more youthful stages. It can put extra strain on often arthritic joints and is shown to increase the risk of some diseases such as cancer and diabetes. The extra weight can be very difficult to shift without the correct diet, which we can guide you on.
We believe that diet is such an essential part of preventative healthcare that as a member of our Healthy Pet Club you'll receive discounts on all of our maintenance and prescription pet food.
2. Keep your pet moving
Daily exercise will help keep them mobile, can regulate weight, and generally improve their physical condition inside and out. Being active is also proven to improve their mental well-being and can be a significant contributor to content and happy life. Walks outside the garden where they live provide better stimulation than just walking about inside their garden, even if it is a big one.
If your companion is used to sitting around and has lost the habit of exercise, it's worth tempting them with toys and healthy treats to encourage them to be more active every day. To begin with, this might seem like hard work for you both, but the benefits make the extra effort more than worth it.
While encouraging activity, it's important to keep an eye on your pet's ability to cope with it. Don't push them too hard but do let them walk and play as much as they can. If you are worried about diminishing stamina, or if they seem to show signs of pain during or after exercising, then make an appointment to come and see us.
A thorough vet exam will allow us to check your pet over, and provide you with peace of mind that you're keeping them happy and pain-free.
WE ARE CURRENTLY RUNNING A SPECIAL OFFER ON SENIOR PET EXAMS, AND HEALTHY PET CLUB MEMBERS RECEIVE AN ADDITIONAL DISCOUNT.
20% Off Vet and Nurse Consults
Throughout July we are offering a 20% discount on senior pet examinations.
(Healthy Pet Club members also receive an additional 10% discount).
In addition, we've created a really useful senior pet assessment questionnaire for you to complete and bring along to your next appointment.
3. Get your pet's health checked every six months
Regularly monitoring and recording your senior pet's progress is really important at this life stage. Age-related conditions can creep up on us all, and the longer they're left unnoticed and untreated the harder they'll be to deal with. Six months is a much longer part of a dog or cat's life than it is ours; it is equivalent to our human 5 yearly checkups
Health issues associated with ageing including diabetes, poor oral health, heart disease, thyroid diseases, kidney diseases, and joint pain don't always show themselves until they've taken hold and started to cause damage, so it's crucial that we see your pet every six months to identify problems early.
We strongly recommend an annual blood test for any dog over the age of 9, and cats over 10. This is like having an internal exam done for your pet, and the best way to screen for disease. We also recommend measuring blood pressure and checking urine samples annually, on older cats.
We now have a much broader understanding of the ageing process in our companion animals, and this coupled with a new technology which – we have in our practice – allows us to add years to our pets lives if problems are noticed early.
4. Keep an eye on those gnarly gnashers
Maintaining good dental health is key to good general health. As your senior is more prone to infection as they age, it's particularly important that we give them a dental check as part of their six-monthly health check to make sure no issues are developing.
If decay and gum diseases are left untreated your pet can be constant pain and have trouble eating enough to keep them healthy.
They can also be left at risk of damage to their internal organs as bacteria from their mouths can enter their bloodstream, which can lead to kidney and heart diseases.
During your check-up, we can talk about diet, if any dental chews would help, and give you advice on tools and techniques to maximise tooth brushing effectiveness at home.
5. Don't let preventable diseases or parasites attack your pet.
Elderly immune systems don't work as well as younger ones, and our seniors are therefore more open to infection and less able to fight problems when they occur.
Make sure that your pet has continuous cover against diseases we can vaccinate against, as these could cause serious long-term health issues and may prove fatal.
Worms, fleas, ticks and lice can also cause significant health problems, so make sure your senior has year-round protection against these. If your lifestyle makes administration of products tricky, we now have lots of alternative options, so do come in and have a chat about how we can make effective parasite control work for you all. Over the counter preparations can at best be ineffective and at worst lethal, especially for cats.
Don't forget that all our Healthy Pet Club members receive a 15% discount on vaccinations, and on all of the best products for preventing fleas, ticks and worms.
Make sure that vaccinations are kept up to date and that they have year-round protection from worms and fleas.
If you hear of any local issues such as dogs contracting Alabama Rot from certain areas, please speak to us and take whatever steps necessary to avoid contamination.
6. Regular grooming
Older pets can at times spend more time lying around and have more trouble grooming themselves all over. Cats in particular, with arthritis or dental disease, can have great difficulty self-grooming. Those that suffer from incontinence can experience skin burns as urine scalds, and drooling can cause facial soreness.
Regular grooming is a good habit that helps you keep an eye on any potential problems and also to prevent matted hair, the bueld-up of dirt and prevent overgrown nails. It also means you're more familiar with their overall condition and can monitor any changes in body weight and notice any new lumps and bumps that might need monitoring.
Make sure you're using a gentle brush and are careful with them as older skin is more fragile and can be more easily damaged.
7. Love your per and let them feel it
As your pet ages, they might become challenging in some ways. Increased needs, reduced mobility, poor hearing and sight, can all make them quite different animals to have around. One of their greatest needs is love and patience from their owners.
Some of our older pets need adaptations made to their environment, such as some non-slip mats for dogs to walk on, or an extra stool to provide an extra step for a cat to reach the height of their bed.
Even if an old dog or cat no longer responds physically to you talking to them, they still need companionship and care from you for mental health and emotional well-being.
Try to be sensitive to any changes in them as even small things can be a sign of an approaching health issue. If you're in doubt or would like to chat about anything, just call us, and we'll arrange a convenient time.
Key indicators that it's time to book a check-up for your senior pet:
Change in weight – losing or gaining
Difficulty with stairs or jumping
More frequent urination
Confusion and disorientation
Shaking or tremors
Skin and coat changes – condition, lumps, bumps, itches
Stiffness
Changes in the amount they eat or drink
Incontinence or loss of house-training habits
Excessive tiredness
Interacting with the family less
Bad breath and/or red and swollen gums
Disinterest in general activity
Click here for more info about this months offer and to download the questionnaire to help you assess your pets health.
20% Off Vet and Nurse Consults
Throughout July we are offering a 20% discount on senior pet examinations.
(Healthy Pet Club members also receive an additional 10% discount).
In addition, we've created a really useful senior pet assessment questionnaire for you to complete and bring along to your next appointment.