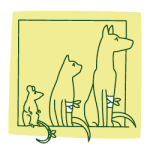 Elston Vets
Lead Veterinary Nurse Job Vacancy
We are looking for a dynamic, experienced RVN who enjoys and finds fulfilment in their job, takes pleasure in keeping things organised, and wants to take the opportunity to make a valued contribution to a growing independent practice.
This role requires excellent communication skills, experience managing people, projects, with an understanding of KPIs to achieve high standards in client and patient care. Th ability to work on your own and use your initiative is necessary.
We have a friendly and motivated team, who are fully engaged and therefore highly appreciated. Each team member contributes to the business through our Continuous Improvement System, which allows good ideas to become protocols, driven by the team. Autonomy in each role is always encouraged.
Our goal of excellent standards is achieved and maintained through our systems and great teamwork.
This role is full-time and requires clinical nursing duties as well as nurse consultation duties.
We value a true work-life balance so expect excellence with all clinical work, customer care, and motivation for CPD, as well as time for holidays.
How to apply
If you are interested in joining our lovely, happy small animal practice and help us expand, please apply online and attach your CV. Questions may be directed to enid.frantilla@elstonvets.co.uk